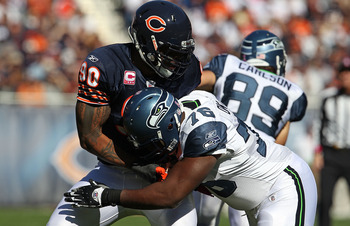 Jonathan Daniel/Getty Images
This weekend the NFL playoffs continue with four more games on the slate. We will learn the final four teams that will have a chance to play for the Lombardi Trophy in Super Bowl XLV on February 6th.
One game features two teams that very few people saw making it to this point. That would be the NFC North champion Chicago Bears hosting the NFC West champion Seattle Seahawks.
It wasn't necessarily surprising that the Bears made the playoffs but few people saw them being the No.2 seed in the NFC.
Seattle has been defying the odds all season long. They won a miserable division with a losing record. They beat the defending Super Bowl champions in the wild-card round and now they have a chance to advance to the NFC championship game.
So who has the advantage on offense?
Who will dominate on defense?
Here is a position-by-position matchup breakdown for the Seahawks-Bears playoff game this Sunday